WOA NEWS
---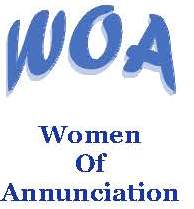 Have you been to a WOA event yet? Remember, ALL women in the parish are already part of 'Women of Annunciation' and there is no annual dues or registration required. A great way to meet and stay connected to other women in the parish is to attend one of the social, spiritual, or service events offered. Information about events is found in the bulletin and sent out via email if you choose. Feel free to drop by and bring a friend!
WOA is excited to expand the leadership team and is looking for a Game Night Coordinator and a Historian. The Game Night Coordinator would work with Ann Kelly and Mariann Wedel to offer some social game nights for the Women of Annunciation and their friends to attend. This is a volunteer role and is open to your creative ideas. The Historian would work with Ann Kely, Tricia Beavin, and Susan Fitzpatrick to create and maintain a memory book of past WOA events and a calendar of future WOA events. This is also a volunteer role and is open to your creative input! This would be a fun way to utilize your talents and your love of photography and scrapbooking!! :)
For any questions or more information, please contact WOA President - Ann Kelly at annkellyfamily@yahoo.com or 314-397-8834.
+ + +
WOA SPEAKER:
All women in our parish are invited to attend a speaker event, WOA is sponsoring on Thursday, March 22, in the MPH room. We can gather there from 6:30 pm enjoying the drinks and snacks. Sr. Sharon Schwartz will be speaking from 7-8 pm on Hospice. Sister is a part-time Community Liaison at SSM Health at Home—Hospice. She is a former hospice nurse and feels many do not choose hospice as they really do not understand the meaning and how it can be helpful. Please come with questions and concerns for Sister. Please let me know if you are planning to attend.
Mollie Lucchesi 314-304-5887 mary.lucchesi@sbcglobal.net
Mariann Wedel 314-961-3086 mrjwedel@att.net
+ + +
Save the Date for the WOA Birthright Shower
4/30 at 7pm in the MPH Room