Tri-Parish Haiti Sponsorship
---
The Goat and Chicken Project
Roughly 42% of Haitians are food insecure and over half the citizens live only $2.41/day – that is $880 per year! For most families in St. Jean du Sud, the sale of livestock and livestock by-products represents the primary means of saving money for urgent or important needs such as medical care, school tuition, school supplies, and clothing. In the aftermath of Hurricane Matthew in 2016, many families in St. Jean lost their livestock and have struggled to rebuild this source of food and income.
This year's Lenten offering will focus on improving food security in the St. Jean community. In collaboration with local Haitian organization called Avoredes, the project will provide 100 needy families with their own female goat, four laying hens, elite Boer male goats for breeding, participant training and veterinary support. As an added feature of sustainability, all recipient families must donate their first female kid goat to another family so that, in the end, 200 families will be impacted.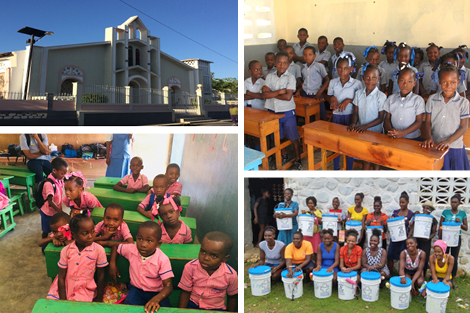 Project Goals
Provide families with additional sources of food and income through the rearing goats and chickens
Train participants in the breeding and care of the animals
Improve the performance/genetics of the goat population in St. Jean through breeding
Investment
A family sponsorship is $200 and includes the full cost of the animals and the program services. All donations are welcome – please give what you can. Checks should be made out to Annunciation Parish, with "Haiti goat/chicken project" written in the memo section and also on the outside of the envelope. Envelopes are also available in the church vestibule.
If you are interested in sponsoring a family or have questions about this program, please contact: Joe Rudolph or Jim Baum. Thank you!