Women of Annunciation (WOA)
---
If you are a woman of the parish you are already a member of WOA! Our purpose is social and spiritual support for our parish. Consider taking time for yourself to fellowship with old and new friends of Annunciation.
Pastor: Fr. Mike Esswein
WOA Coorinator: DeeDee Kebler
Annual Membership Dinner/Advisor: Mariann Wedel
Annual Food Truck Event/ Advisor: Martha Disbennett
Speaker Series: Molly Lucchesi
Spiritual Activities Facilitator: Cathy LaBarge
Special Programs: Margo Mueller
Communications: Toni Armstrong


---
Divine Mercy Chaplet
The Divine Mercy Chaplet is sung every Tuesday during Eucharistic Adoration at 2:50 pm and 7 pm at Annunciation. Pamphlets containing the Chaplet are available on or in the back tables in church for you to keep. WOA helps facilitate this weekly devotion offered to the parish with a few volunteers who are present for the Chaplet and then put everything away at the conclusion. If you would like to help for an hour once a month at 7 pm, please contact Ann Kelly, 314-397-8834.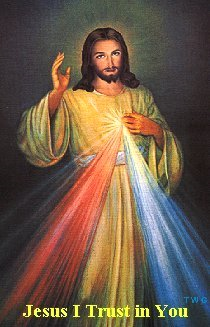 History: Jesus' Passion and Death on the Cross opened the floodgates of God's Divine Mercy to all mankind. The message that Divine Mercy offers in this devotion is nothing new, but a reminder that God is merciful and forgiving and that we are called to be merciful and forgiving to all. The Church has always taught this through Scripture and Tradition. Through the devotion of Divine Mercy and our relationship with Jesus, this message brings us to a deeper understanding that God's love and mercy is unlimited and available to everyone. In 1935 Jesus instructed Sister (now Saint) Faustina Kowalska to spread devotion to this Divine Mercy through recitation of the Divine Mercy Chaplet, the displaying of the Divine Mercy image, and the establishment of a special Feast of Mercy on the Sunday following Easter. Pope St. John Paul II brought these devotions into adoption world-wide and granted the Feast of Divine Mercy Sunday to the church on April 30, 2000, upon canonizing St. Faustina. Read more at: https://www.ewtn.com/devotionals/mercy/backgr.htm