New Structure for HCA in 2020-21
---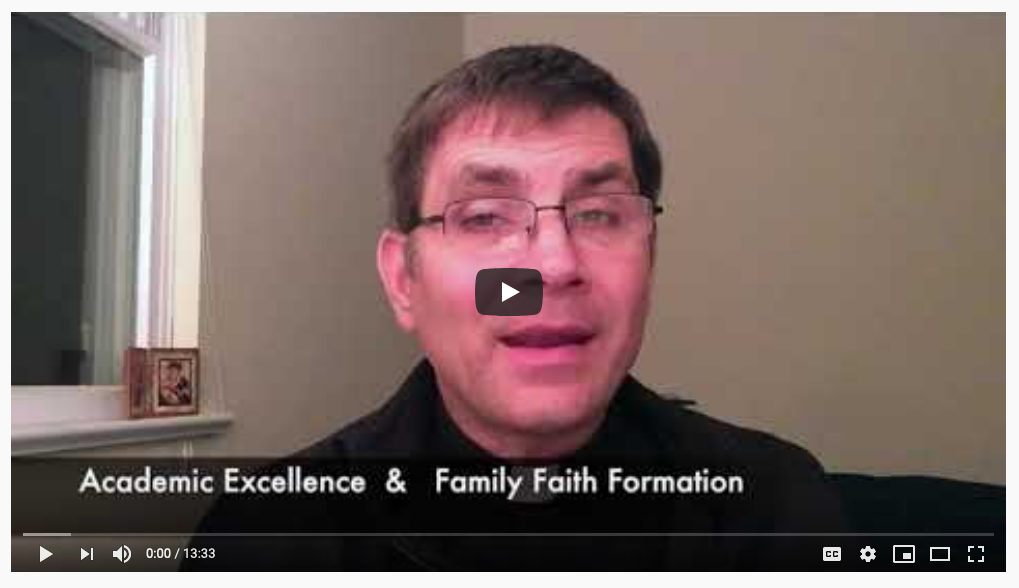 Video Message from Father Mike:
Message from Father Mike:
Dear Families of Holy Cross Academy,
Since Holy Cross Academy was created eight years ago, we've engaged in an ongoing dialogue with our leaders, our parents and our communities to ensure we are delivering on our core values of faith formation, academic excellence, community, social justice, and stewardship.
From the beginning, our board, pastors and administrators have worked to be agile and innovative, understanding we were pioneers in our Archdiocese for Catholic education back then, and continue to be now. We've consistently worked to identify and implement new ways to improve our faith formation and academic experience while serving as good stewards of our resources.
Now, as we prepare to welcome the next generation of learners to Holy Cross Academy, we have identified an opportunity to better deliver on our promise, and focus our resources. Over the course of this last year the pastors and the Board of Directors have been monitoring enrollment trends and have been studying and taking a very close look at the structure of the Academy to determine if AND where improvements might be made to increase the quality of the education of our parish school as well as strengthening the future financial stability of our five-parish school. What we discovered, and then became excited about, was an important and significant opportunity to further improve our student experience while at the very same time maximizing our resources by initiating some structural changes for the 2020-21 school year.
After this school year, we will be initiating the following structural changes:
We've seen a need and demand for A Catholic, Early Childhood Center in our area and so… we are pleased to announce that the St. John Paul II campus will serve as the Early Childhood Center of Holy Cross Academy. All year-round care and offerings for young learners through pre-kindergarten will be offered at the JP2 campus. This campus is centrally located, and its footprint is perfect for young children. We will begin work in the spring to transform the JP2 space, with future plans including a new indoor playground.
St. Michael the Archangel campus, then, will serve as our elementary campus for all kindergarten through second grade students. This campus has a smaller footprint that is ideal for young learners, with its playground, gymnasium, and dedicated library and art spaces.
Our Lady of Providence campus will serve as our intermediate campus for all third through fifth grade students. This campus offers an attached gymnasium, a large outdoor field for PE and student play, and space for a science lab.
Our Annunciation campus will continue to serve as the middle school for all sixth through eighth grade classes. It houses our STREAM lab, a stage for music and theatre productions inside the gymnasium, science room and good art space that our students use for electives.
This model will enable us to focus resources AND encourage collaboration by grade level, while more nimbly addressing needs and fluctuating class sizes. Ultimately, this will incrementally reduce our overhead costs so we can invest more of our resources in expanding academic programming.
Now, To develop this model, we worked with a cross-section of outside elementary and secondary academic professionals with proven capabilities and previous experiences for such a study and evaluation, and we also consulted with two of the founding architects of the Holy Cross Academy model, ---and all endorsed the structure as optimal.
These changes will enable us now to better reach and serve all students, and while it will take some time for us to fully realize the cost savings of this structure, some of the benefits will be immediate upon implementation:
Bringing together all students at a grade level offers greater social and academic benefits, including more flexibility in academic offerings to better allow us to reach every learner through special education and gifted offerings, with increased faculty collaboration and more balance in class size.
We will have a new, multi-child discount program added to recognize families with students at our early childhood center.
We will begin a search for a President to assume leadership for the Academy. This individual will start no later than the 2021-2022 school year. We are redefining this role to better align with our vision for the Academy. The President role will be broader in its scope as the future President will lead a team whose mission will be to deliver an exceptional academic program that will be at the heart and center of building a stronger five-parish faith community. In addition to a strong background in Catholic education, the ideal candidate will have proven leadership experience, including demonstrated ability to coach and to develop an administrative team to achieve the mission of academic excellence in education and
Family, faith formation. This is not just about our children's faith formation, but it's about the whole family, including most especially you our Mom's & Dad's of Holy Cross Academy and our five parishes.
Through the rest of this school year the existing leadership structure will continue as it is. During the first year of transition, Fr. Mike Esswein will continue to serve as Designated Pastor and Dr. Greg Densberger will serve as Lead Principal of the Academy to ensure a smooth and seamless transition. Dr. Densberger knows our community well and will provide a sense of continuity during our first year.
Our commitment to our community is one of ongoing and sustainable academic excellence, and as part of our stewardship core value we want to ensure that a premier Catholic education is available to everyone, reaching exceptional learners across the spectrum regardless of financial means. With these structural changes to our model, we will be well equipped to build on our strong foundation and offer exceptional Catholic education to all learners for generations to come.
Together, our founding parishes set a new standard for Catholic education eight years ago, and this is our next chapter. We are stronger together, and today our enrollment is among the largest Catholic schools in St. Louis. We will be stronger yet… with these changes. The broader trend of declining enrollment in Catholic schools continues and that is not something we can ignore. Every Catholic school in our area is facing this challenge, whether they have 50 students or 500. We have the foresight, the ability, and the dedication—not to mention our faith--to address it now, and we benefit from the strength of five parishes behind us. In addition to the support and approval by the wise, outside educators and founding architects of our Academy, and all of our current principals, and the unanimous approval of our board of directors, we too received support and enthusiastic encouragement from a group of some 40 Parish Council and Finance Council Members at a joint, five-parish meeting. All of them individually but even more so as a collective and broad group of the leadership of our five parishes, and one faith community, testify to the shared belief and appreciation for this model for educating our children and developing the faith of all of our families and community of our beloved Holy Cross Academy.
When we were founded 8 years ago the image of the Aspen Tree served as a reflection of our new identity as the faith community of Holy Cross Academy. It is important to note, that The Aspen Tree typically grows in environments that are otherwise dominated by other kinds of trees. In such environments Aspens survive and thrive amid all threats that comes by way of the environment around them, when other trees cannot survive, because the Aspen has the ability to adapt and evolve when it is needed. Aspens are ultimately aided by their root system that interlocks them into a stronger unit that sustains all of them and gives them the ability to thrive.
This model continues to live up to that image of the Aspen where as we uniquely grow in an environment dominated by single parish schools. We at Holy Cross Academy have the ability and the wisdom to adapt to the environment around us that allows us to, not only survive where others cannot and will not in the near future, but puts us on course to grow and thrive.
We are Holy Cross Academy. That is our name and our identity known by all. But it's more than just our name. It is our faith, that whenever we find or meet the cross or experience some change or some loss in this life of ours, that we know it will be a path for us, not to an end, but to new life, that holds within it the power to transform and to become more.
We know you must have questions, and we have emailed you a preliminary FAQ to address those we can at this time. As always, we your pastors, your principals and your HCA Board members are available and are most willing to hear from you if, and when, you have questions or feedback. We too have a dedicated email address for any questions you may have that you can find on the FAQ, if that is more convenient for you. And just a reminder that if you were to reach out to me or the other pastors, do know that unlike all the admin, faculty, and staff of HCA we pastors do not have HCA email accounts and we can be best reached by way of our parish accounts.
If you find yourself feeling uncertain, or unsure or concerned, or anxious as you here this for the first time, that would be understandable, but I ask you to please take a deep breath and resist any temptations to immediately run to your worst conclusions or fears. Look instead to the season of advent where we are called to be a people who watch and wait with patience and in hope for the coming of someone who promises us so much more. Trust and believe that there is more both in His coming and in this His Holy Cross.
We are grateful for all you do to make Holy Cross Academy the special place that it is, and we thank you for entrusting us with your children, as we as a community of faith Adore You, O Christ, and we praise You, because by Your Holy Cross You have redeemed world.
May the Prince of Peace be with all of you this Advent season, and the Christmas season ahead.
Father Mike Esswein
on behalf of the
Holy Cross Academy Pastors and Board of Directors
Still have questions? Learn more with our Frequently Asked Questions.