Totus Tuus Summer Program
---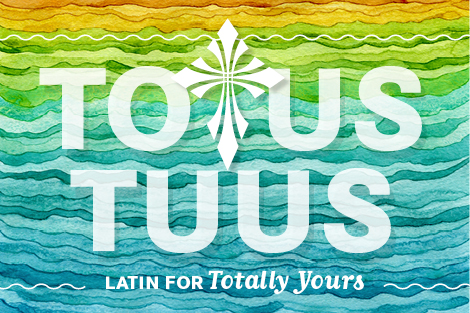 July 8-12, 2019 at Our Lady of Providence
Available for all the youth of Annunciation
Two programs available
Grades 1 to 6 Program
Grades 7 to 12 Program
Totus Tuus is Latin for "totally yours". This summer our five Holy Cross parishes have joined together to bring this Catholic youth camp to our students entering grades 1 to 12. Totus Tuus is dedicated to sharing the gospel and promoting the Catholic faith through evangelization, catechesis, Christian witness, and Eucharistic worship all in a fun and exciting experience!
---
Times and dates
Students entering grades 1-6
Monday July 8 — Friday July 12
9:00am-3:00pm
$40 per student, 3 + student = $80 max (includes t-shirt)
Checks payable to your parish (memo: Totus Tuus)
Students entering grades 7-12
Sunday July 7- Thursday July 11
7:30pm-9:30pm
FREE!!!!!!
---
Parents want to help?
• Host 2 team members in your home for the week, Saturday evening, July 6 – Friday, July 12
• Have the team for dinner one evening (Sunday-Thursday)
• Provide lunch for team one day
• Help during the sessions
Curriculum
The Totus Tuus program has divided the four pillars of the Catechism of the Catholic Church into a six year cycle. Additionally, each summer is dedicated to the mysteries of the Rosary. In 2019, Totus Tuus will cover:
Theme: The Sacraments
Mysteries: The Sorrowful Mysteries
Background of Totus Tuus
According to his apostolic letter Rosarium Virginis Mariae, Pope John Paul II borrowed the motto from the MARION consecrating prayer found in the book, "True Devotion to Mary" by Saint Louis de Montfort. The complete translated text of the prayer is "I belong entirely to you and all that I have is yours. I take you for my all. Oh Mary, give me your heart." Pope John Paul II once recalled how as a young seminarian he "read and reread many times and with great spiritual profit some writings of Saint Louis de Montfort and that I could not exclude the Lord's mother from my life without neglecting the will of the God-Trinity."
Who we are
Nationally trained college aged student missionaries are devoting their summer to sharing the Totus Tuus message with the youth of area parishes! Annunciation, Our Lady of Providence, Saint John Paul II, Saint Michael the Archangel, and Seven Holy Founders are blessed to have these young people leading our children to a deeper faith. Totus Tuus takes college students and seminarians to engage our youth with skits, songs, games, and inspiring interactive teaching all to instruct young people in the basic tenants of the Catholic faith to cultivate both a firm intellectual grounding and a solid personal relationship with Christ. Totus Tuus demonstrates that one can be a faithful practicing Catholic and still have fun!!! See the registration insert for the information you need register your children for this faith-filled summer event.
For more information, contact Becky Bock or visit Totus Tuus.