Register for Totus Tuus!
---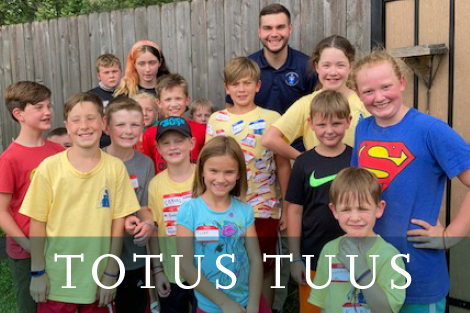 Totus Tuus "Totally Yours" is a unique summer Catholic youth program dedicated to sharing the Gospel. The mission of Totus Tuus is to bring young people in to a relationship with Christ and His Church for lifelong discipleship. Emphasis is placed on dynamic sharing of the faith, Sacraments, and a whole lot of joyful fun. College missionaries carry out the program and have a profound impact on the youth that attend. All parish kids and teens entering grades 1-12 welcome!
July 25 – 29: 9 am – 3 pm
For students entering grades 1-6
$35 person/$70 family
July 24 – 28: 7 – 9 pm
For students entering grades 7-12
FREE
Complete registration here and pay online. Questions? Contact Becky Bock.
---
Archdiocesan terms and conditions
Learn more about our Archdiocesan program.